Discover Miami's Street Art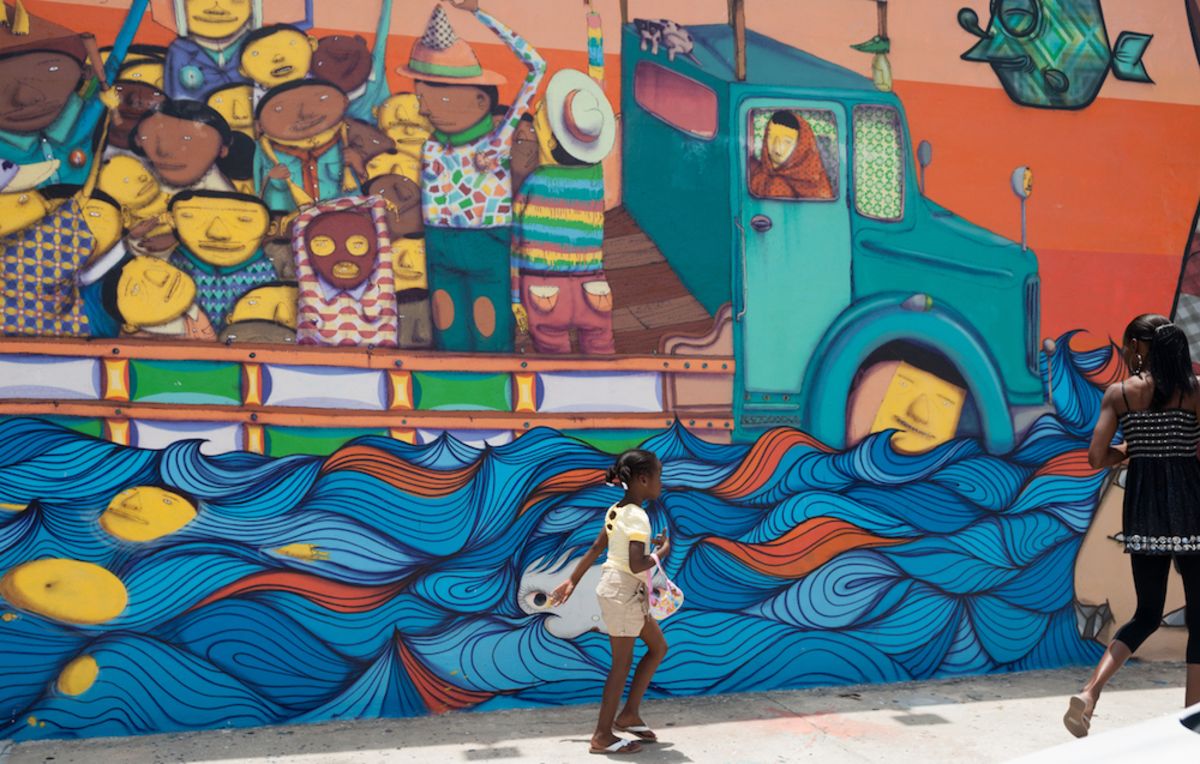 Miami street art is always changing, so you never know what's around the next corner. Colorful murals from internationally renowned artists to local legends decorate warehouses, restaurants, and even bridges. Most of the city's best street art can be found in its major cultural centers like Wynwood, Brickell, Downtown, Little Havana, and the Design District. Put on your walking shoes and explore the hidden spaces of Miami.
Wynwood
Formerly known as the warehouse district, the neighborhood north of Downtown was transformed in the early 2000s to a unique outdoor destination by the world's greatest graffiti and street art artists. The murals of the Wynwood Walls cover over 80,000 square feet, with art from over 50 artists representing 16 countries. Visit the Walls during Art Walk on the second Saturday of each month. Tour the hip neighborhood and enjoy gallery exhibits, street musicians, and food trucks. The Wynwood Walls are open free of charge.
Downtown Miami
Although sparse when it comes to street art, Downtown has a few hidden gems worth checking out, if you know where to look. German artist duo Herakut painted Anything Can Be Beautiful When You Look At It With Love overlooking Downtown at 1334 N Miami Ave. Painted during Art Basel in 2012, the beautiful mural is the eighth of their giant storybook project. In the Overtown neighborhood just north of Downtown, you can see a mural by the famous Purvis Young, the renowned artist with works featured in more than 60 art museums, including the Smithsonian and the High Museum of Art in Atlanta. See his Everyday Life mural on the walls of Culmer Library at Gibson Park.
Little Haiti
Little Haiti's flourishing art scene includes galleries, independent record stores, and colorful street murals. Snap a picture of the 'Welcome to Little Haiti' sign at 5865 NE Second Ave. The mural celebrates local pride by depicting important figures in Haitian culture. Visit the beloved Sweat Records to see Ahol Sniffs Glue's iconic graffiti eyes. The eyes have been featured everywhere from Art Basel to VH1's Tough Love series.
[Where to Find Free Art in Miami]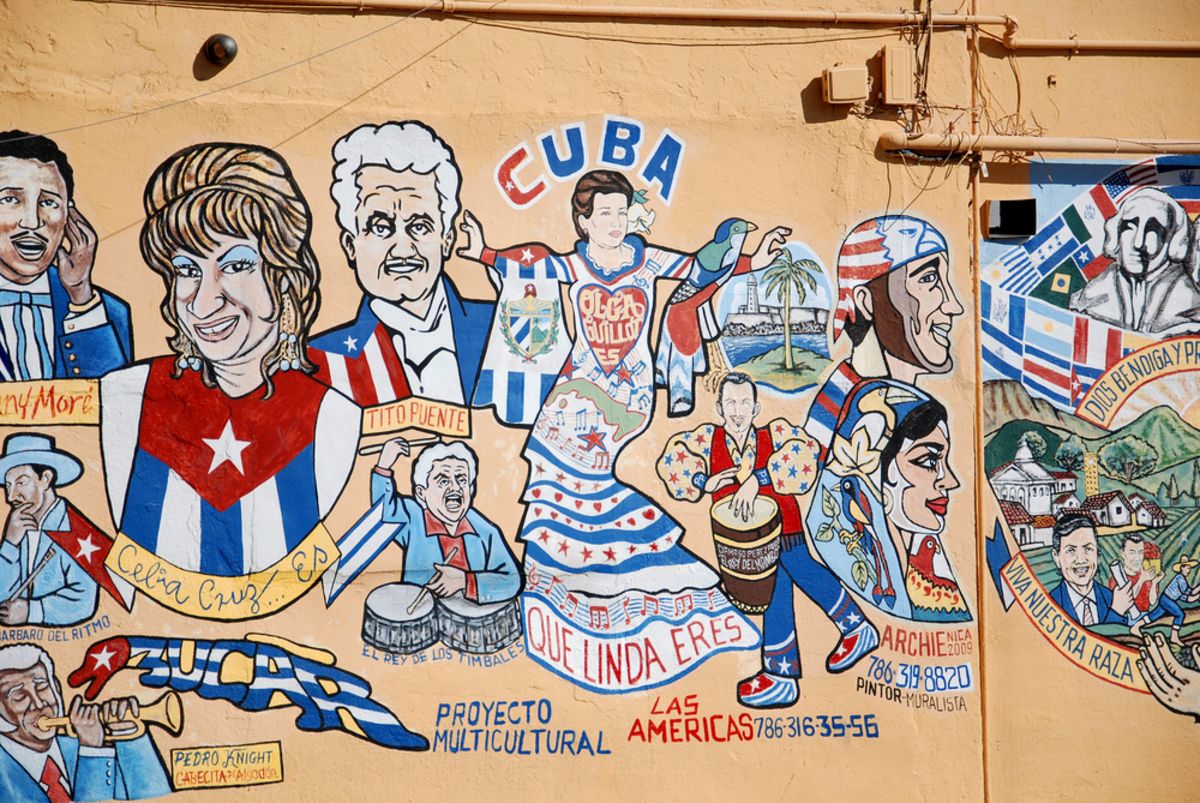 Little Havana
Created by Cuban exiles, Little Havana has become one of Miami's most vibrant neighborhoods. Cuban-inspired street art abounds. Find the famous rooster statue on the corner of Calle Ocho and 25th Avenue, the mural celebrating Cuban musicians on the side of the La Esquina de la Fama Restaurant, and the mural in Domino Plaza of the First Summit of the Americas held in Miami in 1994. Other notable street artworks include the exterior of the Goodwill Superstore at 982 Calle Ocho, which gave multiple artists a square of wall to paint. The end result is a stunning mural of graffiti art in a plethora of styles, all evoking the positive vibes of Little Havana.
Miami Design District
The Design District, known for its shopping, fashion, and architecture, also has an impressive public art collection including sculptures and murals by Zaha Hadid, John Baldessari, and Marc Newson. Check out The Sunbather, a mural by Daniel Fila on Biscayne Boulevard and NE 37th Street. The mural was featured in Michael Bay's 2013 film Pain & Gain starring Mark Walberg and Dwayne Johnson. Another one of our favorites is One Day at a Time by ABSTRK at N Miami Ave and NW 40th St, created as a tribute to a local Miamian battling cancer.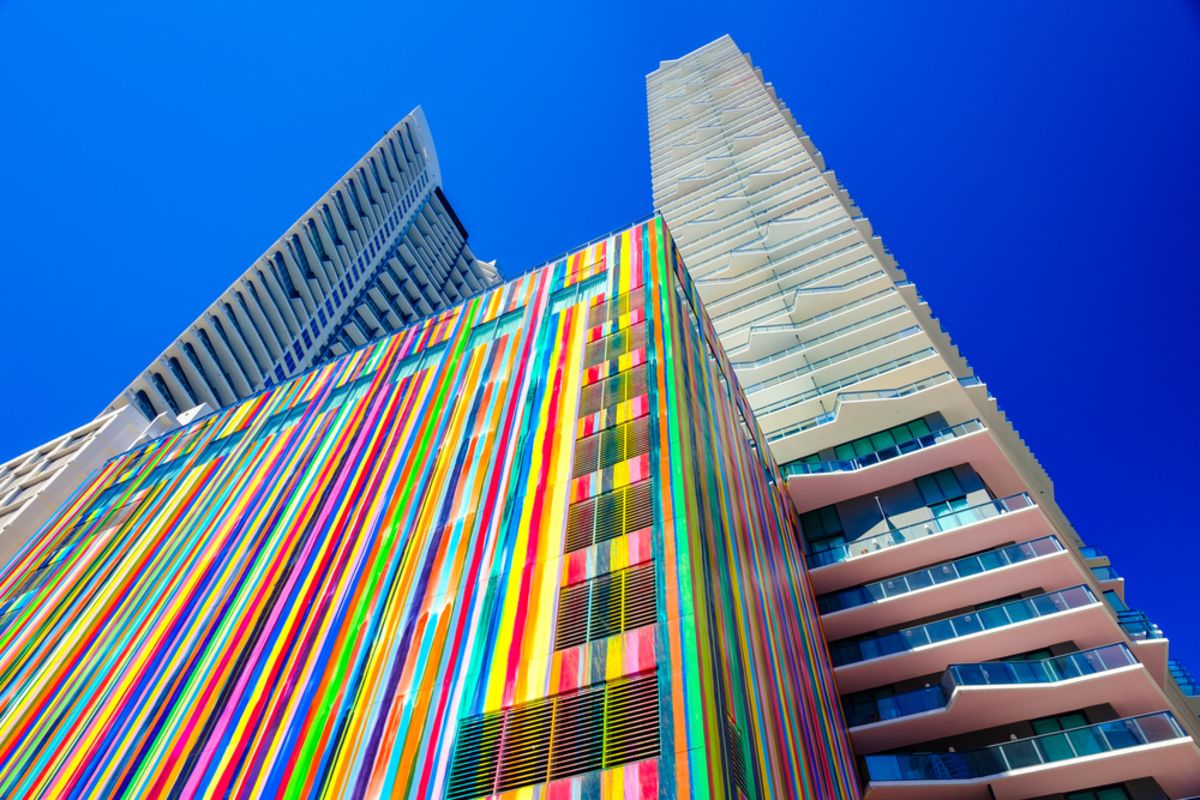 Brickell
The city's financial district got a makeover when Markus Linnenbrink added his colorful work to the side of the SLS Hotel. Linnenbrink covered nearly 40,000 square feet using only paint, water, and gravity. The drip-painting is Linenbrink's largest mural to date.
[5 Must-See Miami Artsy Eateries]
Are you ready to explore the streets of South Beach? You never know what you may find! When you book your South Beach stay with The Sagamore Hotel South Beach, enjoy 24-hour exclusive access to our rotating art exhibitions, sculpture garden, and curated programs under the direction of Resident Art Advisor, Sébastien Laboureau. Share a photo of your favorite work of art at #SagamoreIsArt and stay up-to-date by following us on Instagram for artsy inspiration, our latest acquisitions, specials, and happenings at Sagamore.
Choose from our best rates and special offers when you book direct with The Sagamore Hotel South Beach, an iconic Miami Beach destination known for its unique collection of contemporary art, spacious suites, and prime location only steps from the white sands of South Beach.