10 Reasons to Stay at Sagamore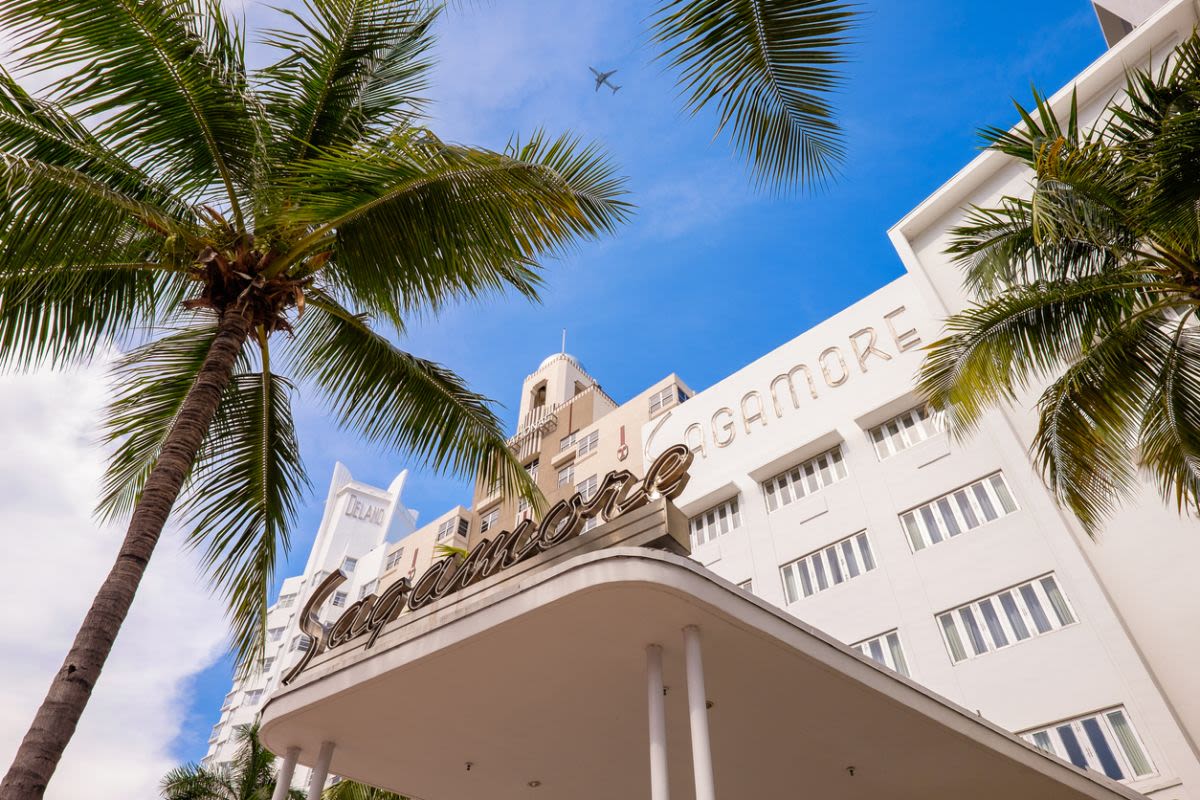 With South Beach, Lincoln Road, Miami Beach Convention Center, and the hippest eateries and clubs on our doorstep, The Sagamore Hotel South Beach is the ultimate Miami Beach hotel for epic nights out, local culture, and relaxing oceanside. Here are our top 10 reasons to choose The Sagamore Hotel South Beach for your next visit to Miami Beach.
Sagamore is Art
Under the direction of our Resident Art Advisor, Sébastien Laboureau, Sagamore has become one of Miami's premier art institutions. Our rotating art exhibitions adorn the walls and grounds of the property, featuring leading contemporary artists from Miami and abroad. Check out our current exhibitions and our newly renovated sculpture garden on your next visit to South Beach.
Prime Location
With the vibrant streets of South Beach to the west and the calming turquoise waters of the Atlantic to the east, Sagamore's central location is ideal for an epic beach getaway. Just steps outside our front door are some of the hottest entertainment venues, clubs, and eateries in all of South Beach. Take a stroll through the Lincoln Road Mall, Miami Beach's premier destination for shopping, dining, and entertainment - located just across the street from Sagamore. When you're ready to get your toes wet, step outside to our pool area overlooking the ocean. The white sands of South Beach are just beyond. Your beach chairs are on us.
Signature Dining Experience
Whether you want an exquisite meal at Canvas or a quick drink from the pool bar, you don't have far to look for a savory meal and handcrafted cocktail at Sagamore. Spend the day poolside and hit up the pool bar happy hour specials for a fruity cocktail to pair with the Miami heat. Book a table for two at our signature restaurant Canvas for progressive culinary creations crafted by Executive Chef Michael Smerda.
102 Unique Rooms
Experience exceptional living, deluxe accommodations, and ocean views when staying with Sagamore. With some of the largest suites and standard rooms in all of South Beach, you can spread out and relax in luxury in our chic Art Deco-inspired rooms. Enjoy premium bedding, a mini-bar, and On-Demand movies in your private suite. In addition to bottled water delivered to your room daily, your resort fee lets you stay connected to the world with high-speed internet. Check your email, surf the net, or watch the latest releases from your favorite streaming network all from the privacy of your own room.
Exclusive Offers
Experience South Beach with our exclusive selection of curated packages aimed to help you make the most of your Sagamore stay. From daily breakfasts to romantic extras, enhance your stay with our special offers, designed to bring your vacation to the next level. As a future guest at The Sagamore Hotel South Beach, you can rest assured that you will always find the best value for your stay when you book direct with The Sagamore Hotel South Beach.
Zero-Entry Pool
Surrounded by a canopy of palms and overlooking Miami Beach, our newly-renovated pool is the place for ultimate relaxation. Chill out on a lounge chair and let us serve you poolside with an innovative cocktail or glass of bubbly - all without compromising your tan time. Take a dip in our zero-entry pool for a much needed cool down.
Truly Excellent Service
Whatever your vacation motivation, The Sagamore Hotel South Beach is at your disposal to make your stay a wonderful experience. Our staff works tirelessly to ensure your visit exceeds your expectations. Feel at home with the warm, personal atmosphere as you're indulged with every attention. From check-in to towel service, our top priority is to offer you an unforgettable getaway with a personal touch.
Beautiful Meeting and Event Space
From corporate meetings to weddings, Sagamore is South Beach's premier property to celebrate a social event or special occasion. Dine in one of our semi-private venues with customized menus or set up in our large and beautifully landscaped outdoor space for a grand affair under the palms. Let our dedicated team help make your event memorable. We offer catering and service staff to ensure your event goes as smooth as possible.
Awards and Accolades
Our platform as a beloved Miami art institution has landed us in respected publications around the world. Check out our Press page to see what others are saying, including our featured shout out in Uproxx where we are named one of the 'World's Best Art Hotels'. Let our guests speak for themselves:
"Great Hotel. Located right on South Beach near main shopping areas. The staff could not have been more welcoming or helpful. Definitely recommend to anyone visiting Miami." - Colin, Google review
"The location is perfect and the suites were very large with beautiful ocean views. The staff was great and I would 100% book here again for my next stay in South Beach." - Adam, Trip Advisor review
"After months of planning my event at The Sagamore and having high expectations, the staff along with the accommodations exceeded and beyond. I felt welcome, comfortable, and my guests were well taken care of. The experience was awesome to say the least!!!! I can't wait to return." Natali, Trip Advisor review
We are Constantly Evolving
Only this past year, the Sagamore pool area and sculpture garden has undergone a complete and glamorous overhaul. While Sagamore remains a preferred choice of families and business travelers alike, our extensive renovations allow us to continually improve your guest experience. We are thrilled to announce the highly anticipated next phase of our renovation projects have already begun. See firsthand when you book your stay with The Sagamore Hotel South Beach. We trust you will have a pleasant and comfortable stay with us.
Are you ready for your SoBe escape? Choose from our best rates and special offers when you book direct with The Sagamore Hotel South Beach, an iconic Miami Beach destination known for its unique collection of contemporary art, spacious suites, and prime location only steps from the white sands of South Beach.