Miami Beach Polo World Cup Returns to the Shores of SoBe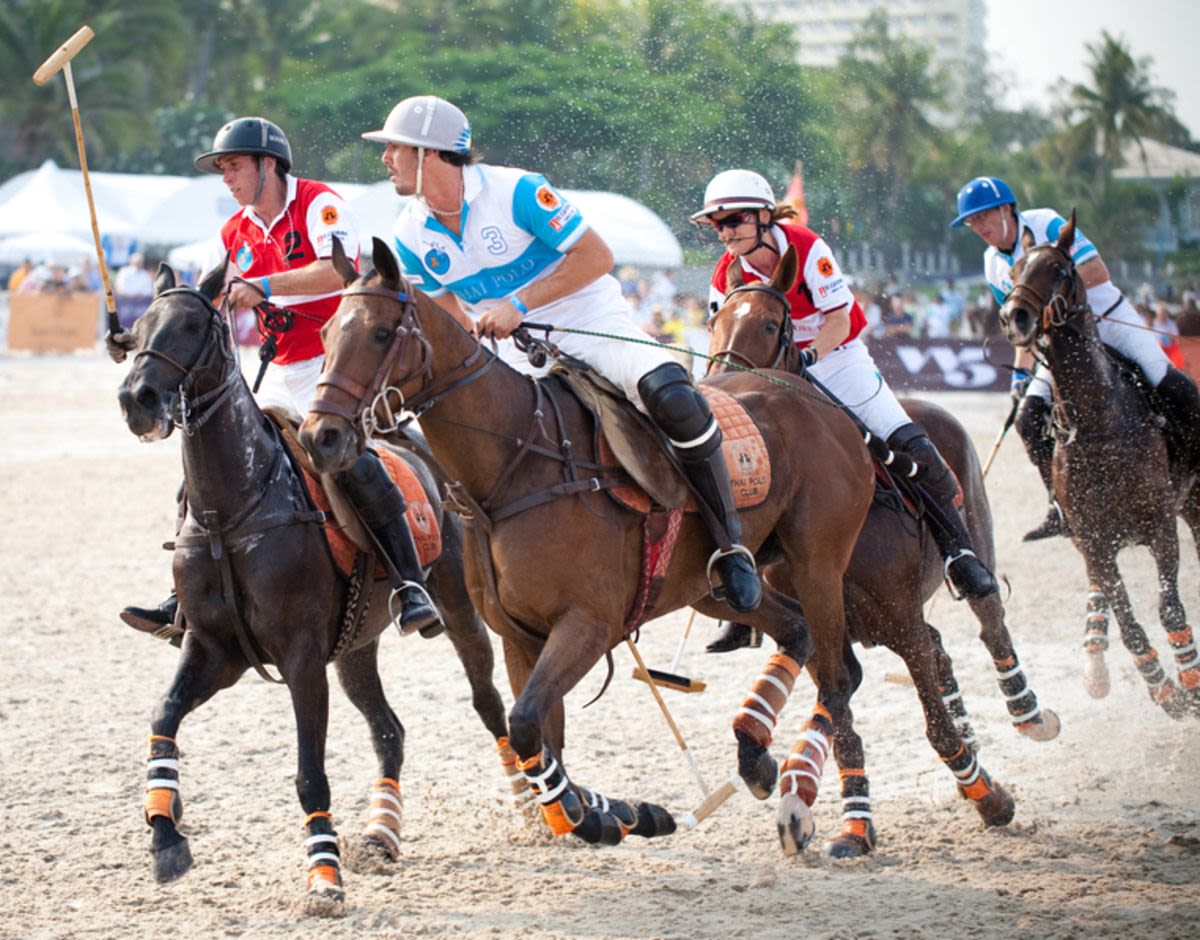 Saddle up for a weekend of beach polo fun on the shores of SoBe. White sands, blue skies, and Miami Beach breezes form the quintessential backdrop to the athletes competing in this year's Miami Beach Polo World Cup. The annual tournament is being held at the 22nd Street beach entrance, only a five minute walk from Sagamore. Take the short walk north along the beach to catch a match of the "most notable and most prestigious beach polo event in the world."
Eight international teams compete for the coveted trophy. The 2019 champion polo player roster features players from the United States, Argentina, Germany, Peru, Italy, and Switzerland competing in games of two three-player teams as they battle it out in four seven-minute periods of play. The weekend of activities includes high-goal matches, a pop-up retail village, and offsite events that fuse sports, luxury, and much more to create an epic weekend.
We've rounded up the hottest polo events that are open to the public. Get things started at the kick-off event at Bodega this Thursday at 9 p.m. After a day of matches on Friday, head to the Après Polo bar immersion at the Setai at 5 p.m. for celebratory drinks. Enjoy a Saturday breakfast at Sagamore's signature Canvas restaurant then join the polo crew on the event grounds on the beach for a 10 a.m. complimentary Bootcamp class hosted by PE Fitness. For Sunday's grand finale, make sure to catch the Charity/Celebrity game, the 3:30 p.m. Finals game, and the award presentation for the winning team, MVP, and best playing pony.
The best part - General Admission is free to the public. For exclusive perks, grab a VIP ticket which includes access to the grandstands, shaded lounge areas, an open full bar, and gourmet food.
Don't miss the social event of the season. The three-day multi-day tournament event kicks off this Thursday from the Collins Park, 22nd Street Beach Entrance. Click here for the full schedule and to purchase VIP tickets.
Stay up-to-date with The Sagamore Hotel South Beach by following us on Instagram and Facebook for artsy inspiration, our latest acquisitions, specials, and happenings at Sagamore. Our newest exhibition Music is Life is on view now through June 30, 2019. Entry is free and open to the public.
Choose from our best rates and special offers when you book direct with The Sagamore Hotel South Beach, an iconic Miami Beach destination known for its unique collection of contemporary art, spacious suites, and prime location only steps from the sands of South Beach.