Your Complete Guide to Art Deco Weekend Miami 2023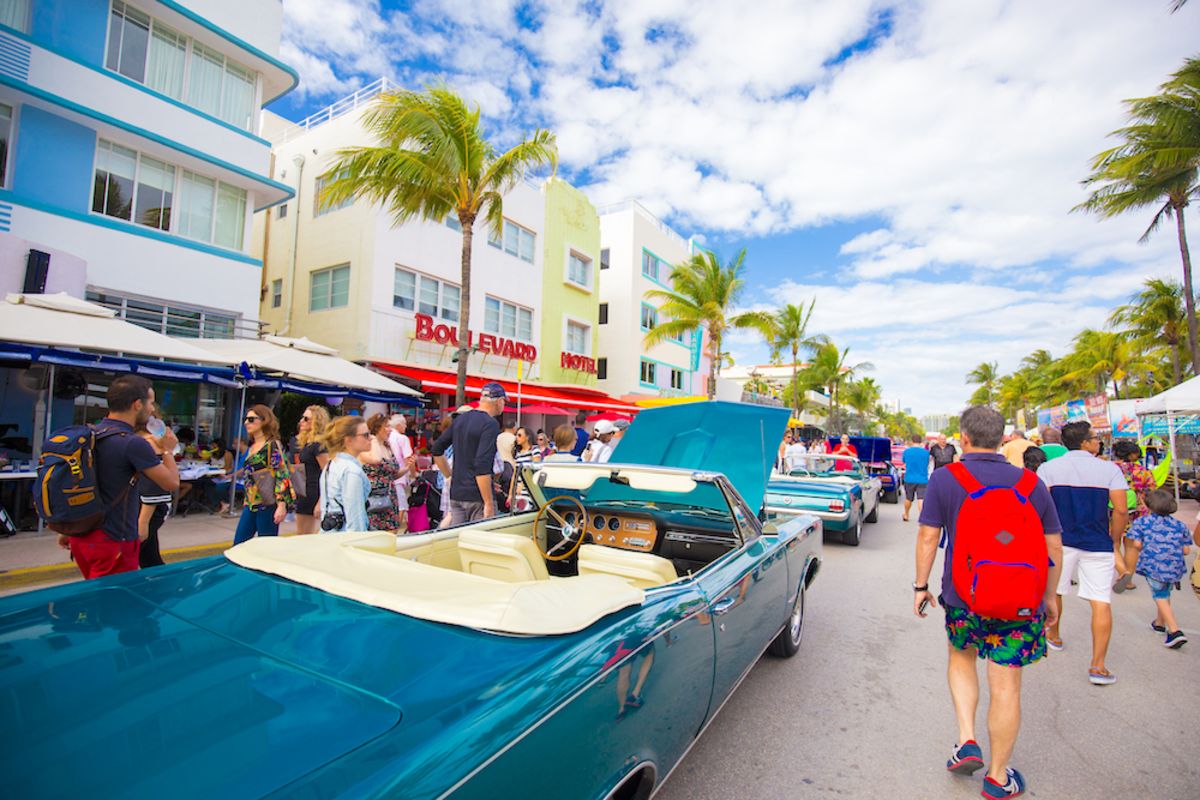 Founded in 1976, Art Deco Weekend spans three days and captivates festival-goers with live music, an open-air marketplace, guided tours, a classic car show, and feature films. The longest-running free community cultural festival in Miami Beach will feature events designed to inspire, educate, and promote the Art Deco District through this year's theme, "Art Deco Worldwide." Immerse yourself in the color and excitement with our complete guide to Art Deco Weekend 2023.
When is Art Deco Weekend?
Art Deco Weekend begins Friday, Jan. 13 and will continue to Sunday, Jan. 15, 2023. The festival is open from 12 - 10 p.m. on Jan. 13; 10 a.m. - 10 p.m. on Jan. 14, and 10 a.m. to 8 p.m. on Jan. 15.
Where is Art Deco Weekend?
Main events are presented in Lummus Park and along Ocean Drive between 5th and 12th Street in Miami Beach, with nearby lectures at The Wolfsonian, films at O Cinema, and live theater at Colony Theatre.
Art Deco Weekend Miami Parking
If you're commuting to the event, keep in mind that Ocean Drive will be closed to vehicles throughout the duration of the festival, with public garages, lots, and street parking available in the vicinity. Download the Miami Beach ParkMe App to show parking options and availability in real-time.
[A Self-Guided Walking Tour of the Art Deco District]
Exhibitions
The Art Deco Museum will present a special exhibition, Radio Waves: Miami Beach and the Golden Age of Radio, exploring the first consumer mass media device and how it helped promote and shape Miami Beach's early development (and helped turn the barrier island into the famous destination we know today!).
Tours
Get an inside look at the Art Deco District's storied history, architects, and most noteworthy buildings on a guided tour. Tours include Ocean Drive Architectural Tour, Jewish Miami Beach Tour, Hotel Names, Bas Reliefs, and Terrazzo Floors - Art Deco Secrets Hiding in Plain Sight, Deco Nights and Neon Lights Tour, and Flamingo Park Tour. Visit Art Deco Weekend's website for a complete list of tours, times, and ticket prices. All tours leave from the Art Deco Welcome Center.
Films
O Cinema will be showing three feature-length films each day of the festival - La Antena (The Aerial), a 2007 fantasy drama film about the power of the human voice after an entire city has theirs literally stolen, L'Inhumaine (The Inhuman Woman), the 1924 French Art Deco film about a mysterious opera singer that became a symbol of French cinema, and Grand Hotel, a 1932 drama depicting guests at a luxurious Berlin hotel between the world wars. The films are ticketed, so reserve your spot in advance at O Cinema.
[Where to Find Free Art in Miami]
Lectures
The Wolfsonian presents a diverse lecture series keeping with this year's theme, "Art Deco Worldwide." In-person programs will take place on Jan. 14 and include The Father of Chinese Art Deco Architecture (11 a.m.), Dancing in the Age of Deco (1 p.m.), and Maps and the Selling of the Sunshine State (3 p.m.). Lectures are free and open to the public. Register ahead.
Live Theater
Anna in the Tropics will perform throughout the duration of the festival at the Colony Theater. The 20th anniversary production of the Pulitzer Prize-winning drama takes place in 1929, inside a Cuban-American cigar factory in Florida. As workers are read Tolstoy's Anna Karenina, their lives soon begin to parallel the novel in a story filled with longing, love, and betrayal.
Live Music
Tap your toes to a full lineup of jazz and tango fusion. The Jazz Age Stage will be set up at Lummus Park and 12th Street and feature artists The Cab Calloway Orchestra, Julio Montalvo's Fabulous Dixie Kings with guest vocalist Shira Lee, FIU Art Deco Combo, The LeNard Rutledge Jazz Ensemble, and Anibal Berraute's Milonga Under the Stars.
[Best Modern and Contemporary Art in Miami]
Classic Car Show
The Classic Car Show forms the perfect backdrop to the live musical performances in Lummus Park. Antique automobiles line Ocean Drive from 10 a.m. - 3 p.m. on Saturday and Sunday, featuring various makes and models from the early 1900s up to 1991.
Participate
From free sketch, dance, and fitness classes to kids activities and chess tournaments, there are plenty of ways to get involved during Art Deco Weekend. Your dog can get in on the festivities as well. The 'Arf' Deco Dog Walk invites your four-legged friend to dress in their best Art Deco attire for a walk down Ocean Drive.
Art Deco Artisan Market
Artisanal gifts, antique furnishings, art, jewelry, and Art Deco memorabilia can be found at the Art Deco Marketplace and the Official Art Deco Gift Shop on Ocean Drive. Pop-up food vendors and bars will be serving bites and cocktails at the food pavilions, with many local eateries offering special discounts and promotions during the festival.
[Miami is for Arts Lovers: 10 Ways to Acquaint Yourself with Miami's Arts]
Book Your Miami Beach Art Deco Hotel
Only a short walk from the festivities, Sagamore Hotel puts you close to the action while providing an oceanside retreat only steps from the beach. Enjoy 24-hour access to our groundbreaking art collection during your stay at The Sagamore Hotel, an iconic Miami Beach destination known for its unique collection of contemporary art, exciting programming, spacious suites, and prime location.
Choose from our best rates and special offers when you book direct and stay up-to-date with us by following the Sagamore Instagram for artsy inspiration, our latest acquisitions, specials, and happenings at Sagamore.