Your Complete Guide to Art Deco Weekend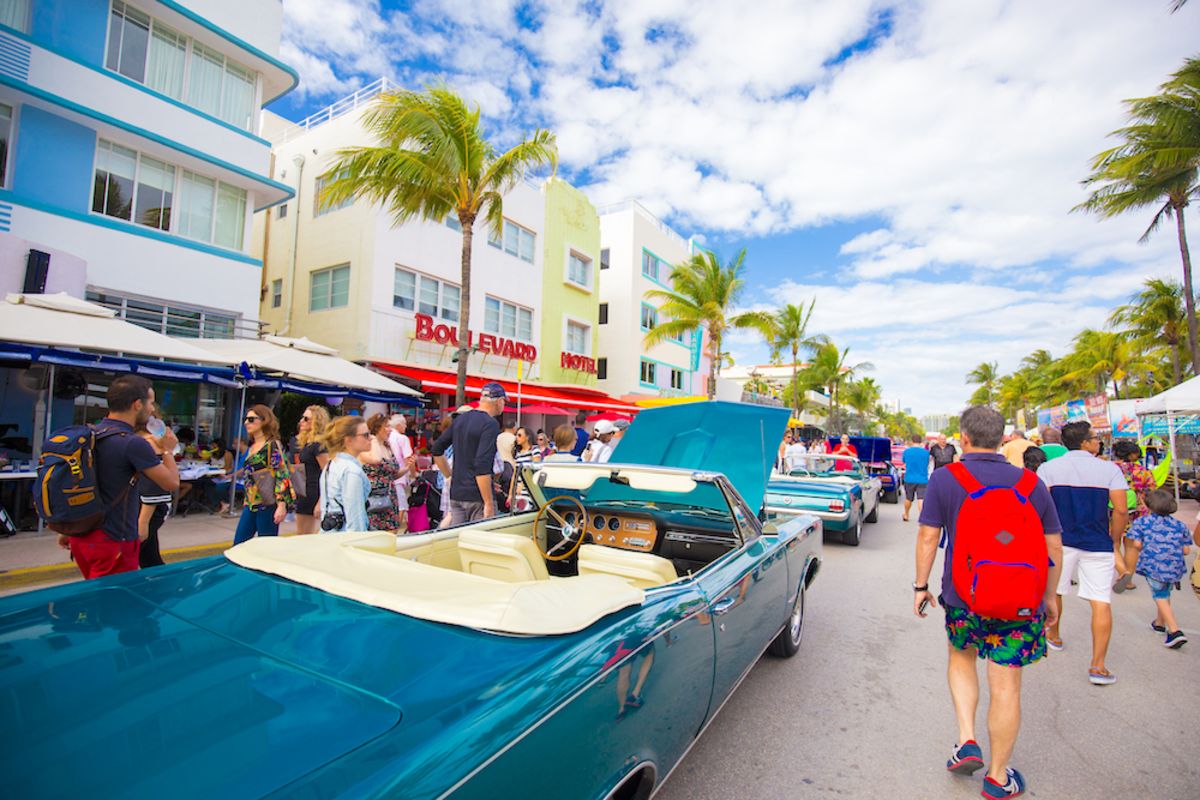 Founded in 1976, Art Deco Weekend spans three days and captivates festival-goers with live music, an open-air marketplace, guided tours, a classic car show, and feature films. The longest-running free community cultural festival in Miami Beach will feature events designed to inspire, educate, and promote the Art Deco District through this year's theme, "Art Deco Celebrates the Radio." Immerse yourself in the color and excitement with our complete guide to Art Deco Weekend.
Details
Art Deco Weekend begins Friday, January 14 and will continue to Sunday, January 16, 2022. Main events are presented in Lummus Park and along Ocean Drive between 6th and 13th Street in Miami Beach, with lectures at The Wolfsonian and films at O Cinema on Washington Avenue. The festival is open from 12 - 10 p.m. on January 14, 10 a.m. - 10 p.m. on January 15, and 10 a.m. to 8 p.m. on January 16. If you're commuting to the event, keep in mind that Ocean Drive will be closed to vehicles throughout the duration of the festival, with public garages, lots, and street parking available nearby. Download the Miami Beach ParkMe app to show parking options and availability in real-time.
Art & Culture
The Art Deco Museum presents a special exhibition, Morris Lapidus: I Did it My Way, a 20-year retrospective on the famed Neo-baroque architect. Learn about Lapidus' work with the Art Deco masters in Miami Beach, his work on Fontainebleau, Eden Roc, and Americana, and his legacy in transforming Lincoln Road into one of the most famous pedestrian plazas. The Wolfsonian has a special exhibition of its own running in tandem with Art Deco Weekend. Check out Aerial Vision, which explores early 20th-century inventions considered the embodiment of human achievement. The exhibition is on display until April 24.
For more architectural wonder, get an inside look at the Art Deco District's storied history, architects, and most noteworthy buildings on a guided tour. Visit Art Deco Weekend's website for a complete list of tours, times, and ticket prices. All tours leave from the tent in front of the Art Deco Welcome Center.
O Cinema will be showing three feature-length films each night of the festival - Radioland Murders, a 90s comedy thriller about chaos at a radio station, the 1941 British propaganda film, Freedom Radio, and The Big Broadcast of 1938, a comedy about a luxury liner race and the radio entertainer broadcasting live aboard one of the ships. The films are ticketed, so reserve your spot in advance at O Cinema.
Lastly, A Wonderful World will perform throughout the duration of the festival at the Colony Theater. The world-premiere musical about jazz legend and American icon Louis Armstrong traces his odyssey, the musical genre he helped define, and the complex history of race in America, from the birth of jazz in Armstrong's native New Orleans to international stardom and the Civil Rights era.
Participate
From free sketch classes to kids activities and chess tournaments, there are plenty of ways to get involved during Art Deco Weekend. Your dog can get in on the festivities as well. The 'Arf' Deco Dog Walk invites your four-legged friend to dress in their best Art Deco attire for a walk down Ocean Drive.
Live Entertainment
Tap your toes to a full lineup of jazz, swing, and traditional Latin tunes. The Jazz Age Stage will be set up at Lummus Park and 6th Street and feature artists like The Swing All-Stars, French Horn Collective, and Troy Anderson and the Hot Five. The Classic Car Show forms the perfect backdrop to the live musical performances. Antique automobiles line Ocean Drive from 10 a.m. - 3 p.m. on Saturday and Sunday, featuring various makes and models from the early 1900s up to 1991.
The Wolfsonian presents a diverse lecture series keeping with this year's theme, "Art Deco Celebrates Radio." In-person programs will take place on January 15 and include Sound and Vision: A Conversation with a Radio Collector (11 a.m.), When Radio Was New: John Vassos and Design for Mass Media (1 p.m.), and Deco for a Demagogue: Father Coughlin's Shrine of the Little Flower (3 p.m.). Lectures are free and open to the public. Register ahead.
Shopping & Dining
Artisanal gifts, antique furnishings, art, jewelry, and Art Deco memorabilia can be found at the Art Deco Marketplace and the Official Art Deco Gift Shop on Ocean Drive. Pop-up food vendors and bars will be serving bites and cocktails at the Food Pavilions, with many local eateries offering special discounts and promotions during the festival.
Only a short walk from the festivities, Sagamore Hotel puts you close to the action while providing an oceanside retreat only steps from the beach. Enjoy 24-hour access to our groundbreaking art collection during your stay at The Sagamore Hotel, an iconic Miami Beach destination known for its unique collection of contemporary art, spacious suites, and prime location.
Choose from our best rates and special offers when you book direct and stay up-to-date with us by following the Sagamore Instagram for artsy inspiration, our latest acquisitions, specials, and happenings at Sagamore.