Your Complete Guide to Art Deco Weekend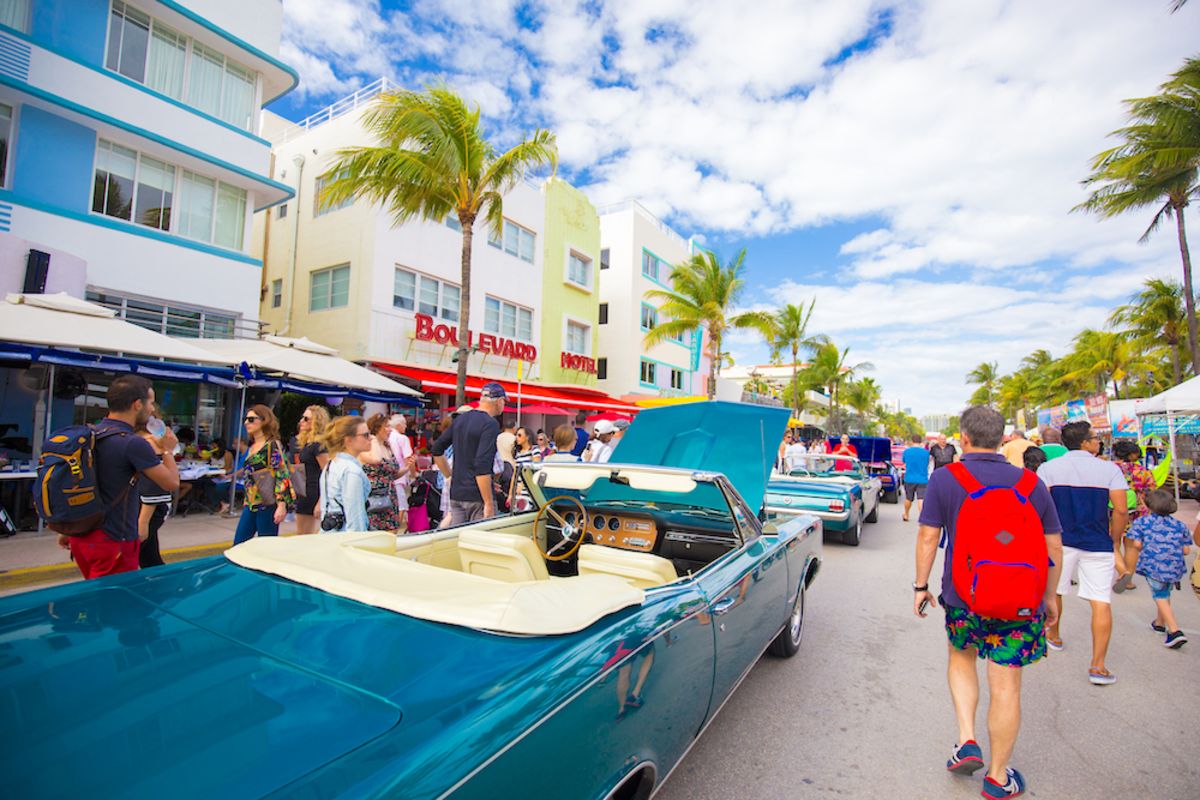 Founded in 1976, Art Deco Weekend spans three days and captivates festival-goers with live music, an open-air marketplace, guided tours, a classic car show, and documentary films. The longest-running free community cultural festival in Miami Beach will feature over 85 events designed to inspire, educate, and promote the Art Deco District and the trailblazers that helped to preserve it. Immerse yourself in the color and excitement with our complete guide to Art Deco Weekend.
Details
Art Deco Weekend begins Friday, January 17 and will continue to Sunday, January 19. The main events are presented in Lummus Park and along Ocean Drive between 6th and 13th Street in Miami Beach, with lectures and a performance at The Wolfsonian and films at O Cinema on Washington Avenue. The festival is open from 12 - 10 p.m. on January 17, 10 a.m. - 10 p.m. on January 18, and 10 a.m. to 8 p.m. on January 19. If you're commuting to the event, keep in mind that Ocean Drive will be closed to vehicles throughout the duration of the festival, with public garages, lots, and street parking available nearby. Download the Miami Beach ParkMe app to show parking options and availability in real-time.
Art & Culture
The Art Deco Museum will feature a special exhibition Unfinished Business: The Fight for Women's Suffrage and Beyond with a bonus outdoor installation Women Who Made A Difference in Lummus Park. Learn about exceptional women who changed the course of history through historic videos, artifacts, information placards, and replica props.
O Cinema will be showing three feature-length documentary films each night of the festival. City Dreamers tells the story of four trailblazing women architects, The Last Resort provides an inside look at Jewish retirees in 1970s Miami Beach told through the lens of American photographers Andy Sweet and Gary Monroe, and Citizen Jane: Battle for the City, details the activist-author Jane Jacobs' fight to save historic New York City from redevelopment. The films are ticketed, so reserve your spot in advance at O Cinema.
For more architectural wonder, get an inside look at the Art Deco District's storied history, architects, and most noteworthy buildings on a guided tour. Visit Art Deco Weekend's website for a complete list of tours, times, and ticket prices. All tours leave from the tent in front of the Art Deco Welcome Center.
Lastly, the anticipated Liony Garcia Corporal Decorum Dance Performance will be held at The Wolfsonian on Sunday, January 19 at 4:30 p.m. The multidisciplinary performance pays tribute to Miami Beach's historic Art Deco District through dance and design. The performance is free and open to all visitors.
Participate
From free sketch and dance classes to a plethora of health and wellness classes, kids activities, and chess tournaments, there are plenty of ways to get involved during Art Deco Weekend. After the ribbon cutting ceremony on Saturday morning, join other marchers during the Women's Suffrage Centennial Parade which will parade down Ocean Drive in honor of the 100 year anniversary of Women's Suffrage. Your dog can get in on the festivities as well. The 'Arf' Deco Dog Walk invites your four-legged friend to dress in their best Art Deco attire for a walk down Ocean Drive.
Live Entertainment
Tap your toes to a full lineup of jazz, swing, orchestra, and traditional Cuban tunes. Two stages will be set up along Ocean Drive and 11th and 13th Streets and will feature artists like James McCoy, Cortadito, and Troy Anderson and the Wonderful World Band. The Classic Car Show forms the perfect backdrop to the live musical performances. Antique automobiles line Ocean Drive from 10 a.m. - 3 p.m. on Saturday and Sunday, featuring various makes and models from the early 1900s up to 1991.
The Wolfsonian presents a diverse lecture series highlighting important figures throughout history such as publisher and artist Conrado Massaguer, designer Hildreth Meiere, and Miami Beach pioneers Jane Fisher and Barbara Baer Capitman. Other topics include women architects of the Art Deco Era, Women's Suffrage, and female pilots of the 1930s. Lectures are free and open to the public.
Shopping and Dining
Artisanal gifts, antique furnishings, art, and jewelry and Art Deco memorabilia can be found at the Art Deco Marketplace, Antique and Design Promenade, and the Official Art Deco Gift Shop along Ocean Drive. Pop-up food vendors and bars will be serving bites and Prohibition-Era cocktails and mojitos, with many local eateries offering special discounts and promotions during the festival.
Only a short walk from the festivities, Sagamore Hotel puts you close to the action while providing an oceanside retreat only steps from the beach. Enjoy 24-hour access to our groundbreaking exhibition, I'm Not a Trophy by Arno Elias during your stay at The Sagamore Hotel, an iconic Miami Beach destination known for its unique collection of contemporary art, spacious suites, and prime location.
Choose from our best rates and special offers when you book direct and stay up-to-date with us by following the Sagamore Instagram for artsy inspiration, our latest acquisitions, specials, and happenings at Sagamore.