A Self-Guided Walking Tour of the Art Deco District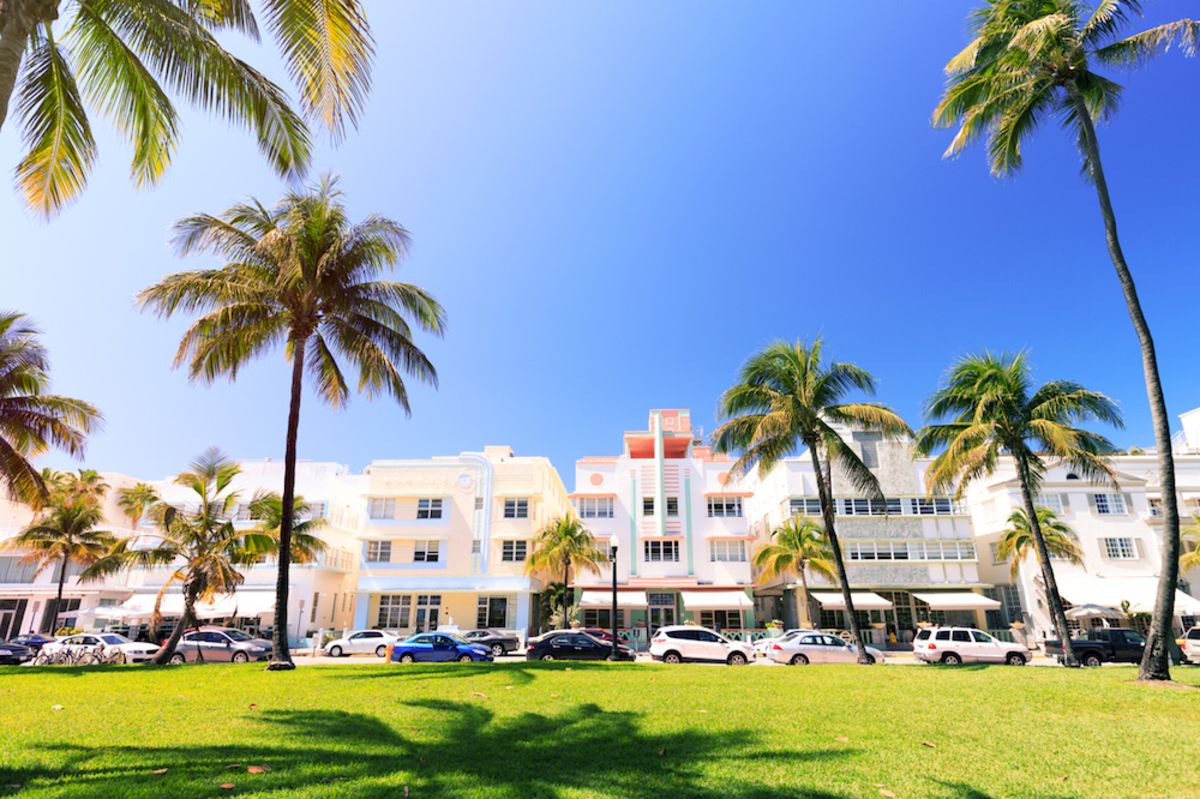 Consisting of over 900 historic buildings constructed between 1923 and 1943, Miami Beach's Art Deco District is the nation's largest concentration of Art Deco architecture. Vivid colors, striking lines, curves, and details designed in the Art Deco, Mediterranean Revival, and Miami Modern style helped put South Beach on the map. Whether you're an early riser or a night owl who wants to see the District lit up with striking neon lights, travel at your own pace at a time of your choosing with our free self-guided walking tour of the Art Deco District.
Sagamore Hotel, 1671 Collins Ave.
Begin at The Sagamore Hotel. The original historic building was designed in 1948 by famed Art Deco architect Albert Anis and was later renovated to include more boutique accommodations. Anis is credited with incorporating his own brand of modernism into his designs, and has produced a number of Art Deco-style buildings in Miami Beach including The Whitelaw Hotel, The Leslie Hotel, and The Clevelander Hotel. Step inside The Sagamore Hotel to browse our contemporary art collection, sculpture garden, and exhibitions, including the groundbreaking I'm Not a Trophy by Arno Elias exhibition, on view now through February 2020.
National Hotel, 1677 Collins Ave.
Next door to The Sagamore, Roy France's National Hotel towers high above Collins Avenue. The hotel built in 1939 honors its classic past by keeping up with the vibes, decor, and furnishings of the 40s. The National Hotel was recognized by Historic Hotels of America for maintaining its architectural authenticity. Bonus stop: Delano South Beach is next door to National and was the tallest building in Miami upon its construction in 1947 by Rob and Rose Schwartz.
Loews Miami Beach Hotel, 1601 Collins Ave.
Take a five-minute walk south on Collins Avenue to Loews Miami Beach Hotel. Built around the historic St. Moritz, Loews was the first new hotel to be erected in over 30 years at the time of construction in 1998. The St. Moritz Hotel was an Art Deco gem, and Loews created a balance by honoring its Art Deco past while generating a new state-of-the-art concept hotel. Catch a glimpse of Roy France's 1939 building on the right side of Loews.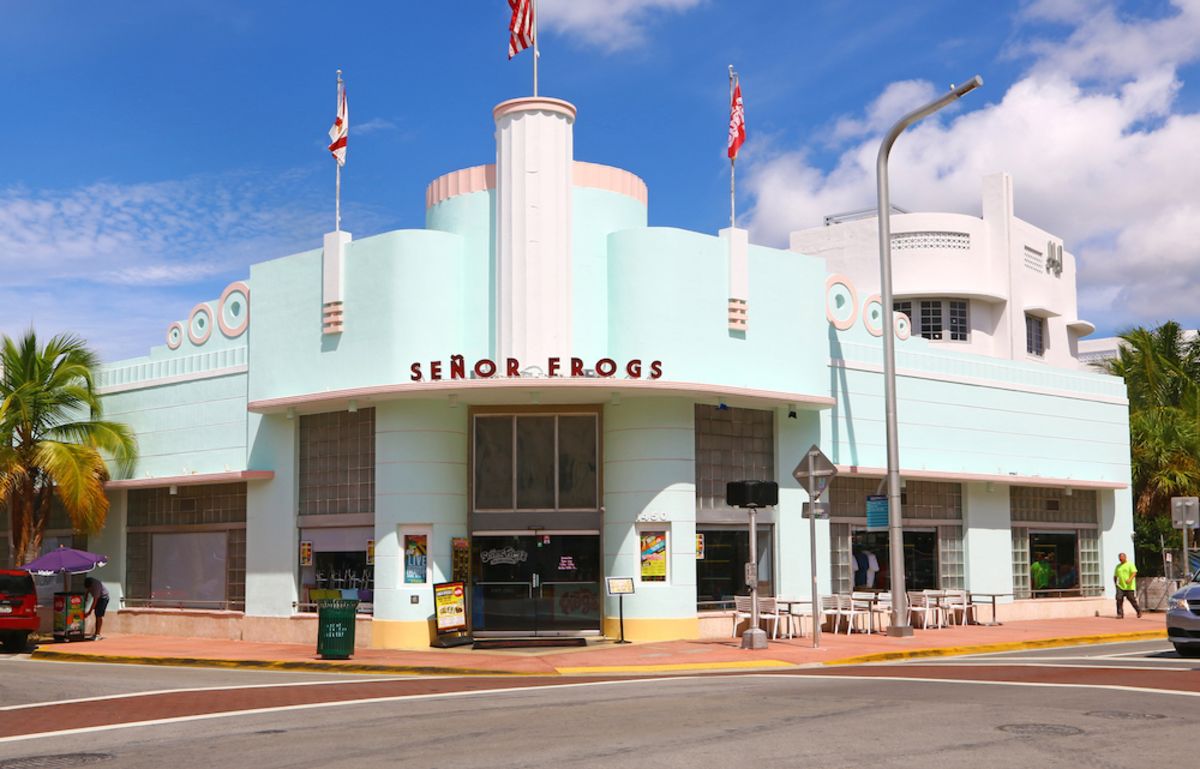 Señor Frog's, 1450 Collins Ave.
Continue south to the party bar and grill, Señor Frog's. Its pale seafoam color and curved architecture makes it one of the most eye-catching buildings on Collins Avenue. Designed by prominent architect Henry Hohauser, the 1939 building once housed Hoffman's Cafeteria, Warsaw Ballroom, and Jerry's Famous Deli.
The Winter Haven, 1400 Ocean Dr.
From Señor Frog's, walk south to 14th Street, take a left, and continue until you reach The Winter Haven on Ocean Drive. The sherbert-colored building with prominent awnings was constructed in 1939 by Albert Anis. Today, Winter Haven retains its historic elegance by incorporating classic furnishings like plush velvet sofas and 1940s original artwork. Bonus stop: The nearby coral pink and turquoise McAlpin Hotel features a tripartite facade and was built in 1940 by L. Murray Dixon.
The Cavalier, 1320 Ocean Dr.
Just steps from The Winter Haven, The Cavalier was originally built in 1936 by Roy France and stands apart from other buildings due to its unique stucco friezes on its facade in golds, turquoises, and reds. The boutique hotel enhances its original architectural integrity by furnishing the lobby with eclectic features like black and gold fittings, nautical decorations, and terrazzo floors. Bonus stop: Next door, The Cardozo was built in 1939 by Henry Hohauser and has appeared in movies Any Given Sunday and There's Something About Mary.
The Carlyle, 1250 Ocean Dr.
Continue south on Ocean Drive to The Carlyle. Featured in films like Scarface, Bad Boys 2, and The Birdcage, The Carlyle was designed by German architect Richard Kiehnel in 1939 and highlights rounded edges that are accentuated by a monochromatic exterior. Today, the building houses luxury condominiums and a sidewalk café. Bonus stop: The cheerful yellow Leslie Hotel next door to The Carlyle was built by Albert Anis in 1937.
The Tides, 1220 Ocean Dr.
A few doors down, the 10-story Tides hotel was built in 1936 by L. Murray Dixon as his first Art Deco hotel masterpiece in Miami Beach. Asymmetrical design, decorative detailing, the Art Deco rule of thirds, and large porthole windows set this hotel apart. Bonus stop: Although not designed in the Art Deco style, the Spanish-style The Villa Casa Casuarina is one of the most photographed buildings along Ocean Drive, serving as the former residence of fashion designer Gianni Versace. The mansion is just south of The Tides on Ocean Drive.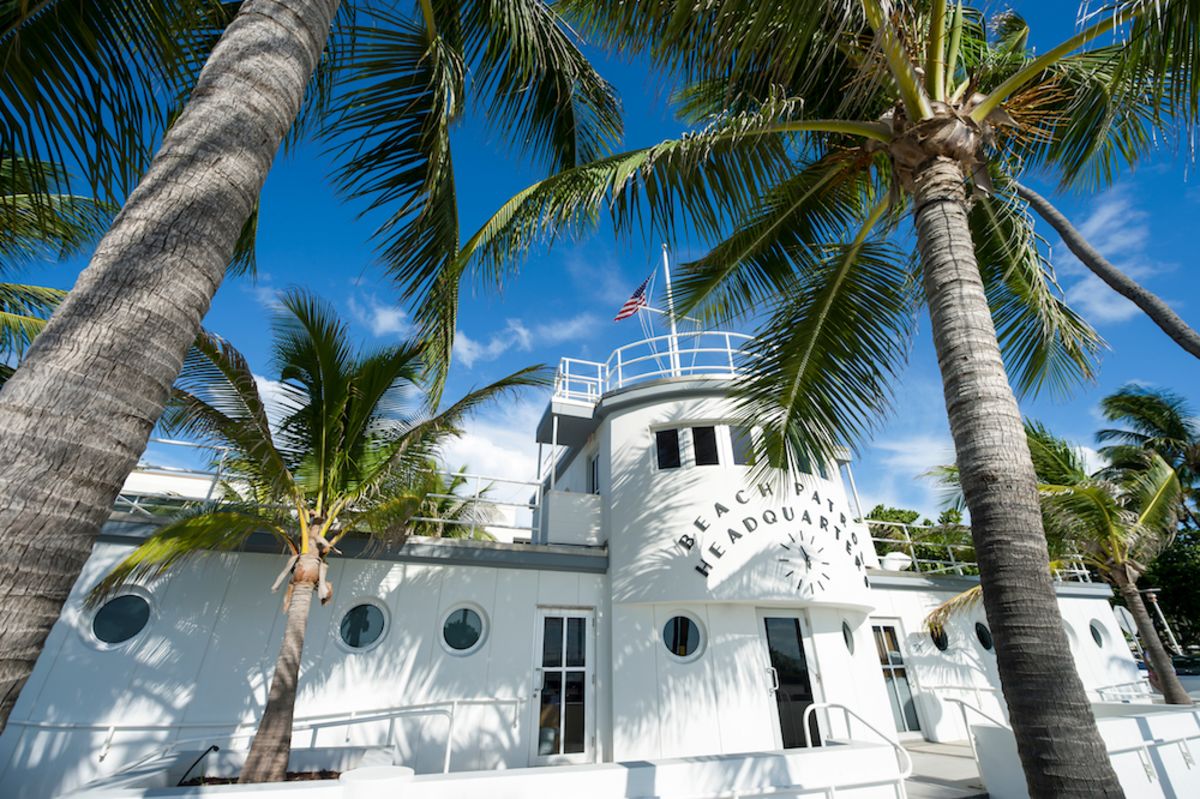 Art Deco Welcome Center, 1001 Ocean Dr.
A few minutes' walk south of The Tides and located across the street in Lummus Park, the Art Deco Welcome Center, Museum, and Gift Shop is the hub of all things Art Deco. The nearby Beach Patrol Headquarters is the first stop on the official guided tour, and for good reason. The unique 1934 building designed by Robert Taylor features nautical details like porthole windows and a circular tower flanked by wings. Bonus stop: The Clevelander Hotel is located directly across the street from the Art Deco Welcome Center and was built in 1938 by Albert Anis. Today known as a place to party along Ocean Drive, The Clevelander got its name from its original Ohio-born owners.
Stay in the heart of the Art Deco District, be steps from all the Art Deco Weekend action, and choose from our best rates and special offers when you book your South Beach stay with The Sagamore Hotel.