Miami Art Week Events at The Sagamore Hotel
Under the direction of Principal Ronit Neuman, alongside Resident Art Director Sébastien Laboureau, Sagamore's ambitious and innovative art program launches us into Miami Art Week with a week of exciting programming. Known for year-round groundbreaking exhibitions, creative activations, and a world-class sculpture garden, Sagamore Hotel kicks off the most thrilling week of the year with behind-the-scenes access to artists, their creative process, and a sensational new exhibition.
I'm Not a Trophy by Arno Elias Exhibition
Partnering with Global Artistic and Humanitarian Project to raise awareness of the animal cause, Sagamore Hotel unveils its latest exhibition, I'm Not a Trophy by Arno Elias. Dedicated entirely to endangered species and indigenous cultures, the anticipated exhibition will highlight the work of the esteemed French artist and wildlife photographer. Works on display will not only include photographs, videos, paintings, and sculptures of ​iconic African animals such as lions, elephants, rhinoceros, gorillas, giraffes, cheetahs, and the last of wild tigers in India, ​but also numerous portraits and artifacts from African tribes whose lives depend on the fragile ecosystem.​ These works of art will bring African wilderness to life and involve all the senses with music, design, and never-before-seen video footage and photos by Elias. I'm Not a Trophy will also showcase works of art by international guest artists who illustrate the world of endangered species.
I'm Not a Trophy opens December 4, 2019 and will remain on view through February 2020.
Most artworks in the exhibition are available for sale, with a portion of the proceeds benefiting the I'm Not a Trophy charity that helps to save endangered species. For a listing of all available works and more information, please contact Sébastien Laboureau at sebastien.laboureau@gmail.com.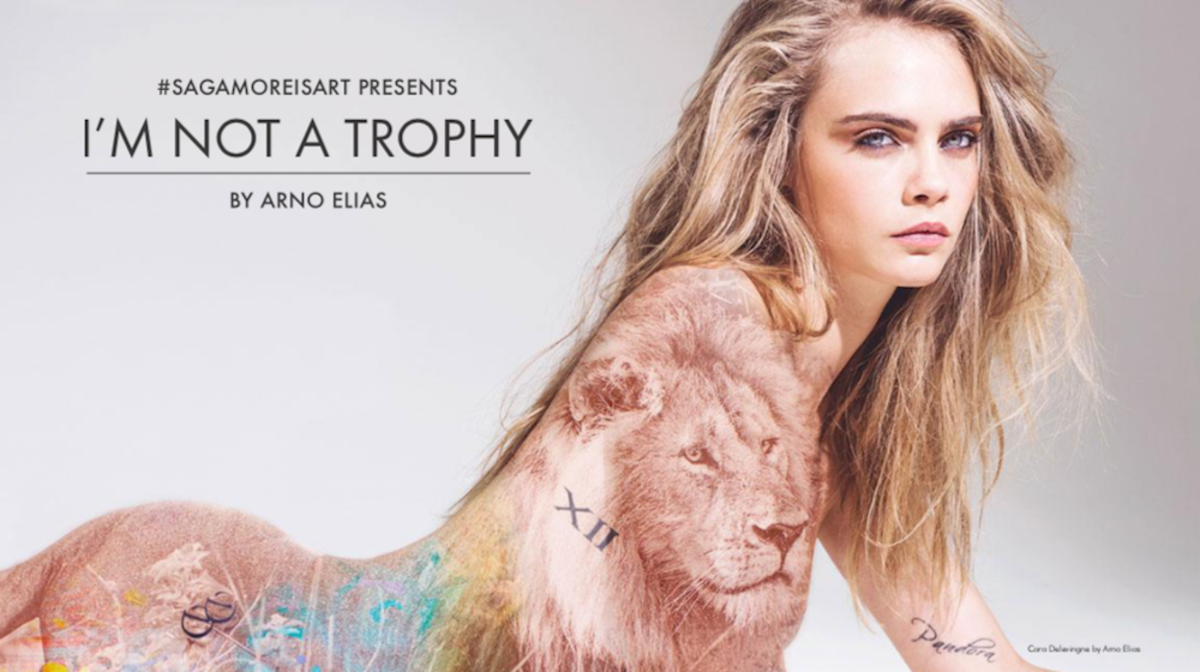 I'm Not a Trophy Opening Reception
Join us for an immersive art event and opening reception of I'm Not a Trophy this Wednesday, December 4, beginning at 9 p.m. Be among the first to preview the exhibition, meet the artists, and chat with Curator and Resident Art Advisor to The Sagamore Hotel, Sébastien Laboureau. Entry is free and open to the public.
19th Annual Art Week Brunch
The Sagamore Hotel's iconic Saturday brunch will welcome Art Basel VIPs for an exclusive, invitation-only affair featuring art activations and performances throughout the hotel's expansive oceanfront property. Industry leaders spanning art, entertainment, and social media will gather in one place to close out another successful Miami Art Week. The world's elite of the contemporary art world gathers this Saturday, December 7, from 9 a.m. - 1 p.m.
Murals in the Making
The Sagamore Hotel has long been an open canvas for leading muralists. Larger-than-life paintings adorn Sagamore's walls, telling a story, stimulating the senses, and welcoming guests to Miami's original "Art hotel". Sagamore continues its long-time tradition with Street Art as two visiting world-acclaimed artists paint murals in the Sagamore Garden to be inaugurated during the annual Art Week Brunch.
London-based artist Louis Masai is deeply involved with the conservation of wildlife which is apparent in his artwork. Striving to find a human reference to juxtapose with his animal works, Masai uses the power of visual language to speak for itself. South African artist, Sonny (pictured above), is well known for his majestic and intricate large-scale wildlife murals that are scattered around the globe. His unique style of art blends realism with abstract coloring which quickly gained notoriety within the street art world. His passion for using his creative voice to raise awareness for important societal and environmental issues has also helped earn him the reputation for being an engaged artist, driven by a desire to make an impact.
Come see Sonny and Louis Masai transform two of #TheSagamoreWalls during Art Week!
Share a photo of what you get up to during Art Week at #SagamoreIsArt and stay up-to-date with us by following the Sagamore Instagram for artsy inspiration, our latest acquisitions, specials, and Art Week happenings in real time at Sagamore.
Enjoy 24-hour access to I'm Not a Trophy and be in the middle of all the Art Week action when you book your South Beach stay with The Sagamore Hotel, an iconic Miami Beach oceanfront destination known for its unique collection of contemporary art, spacious suites, and prime location only steps from Art Basel and Design Miami.